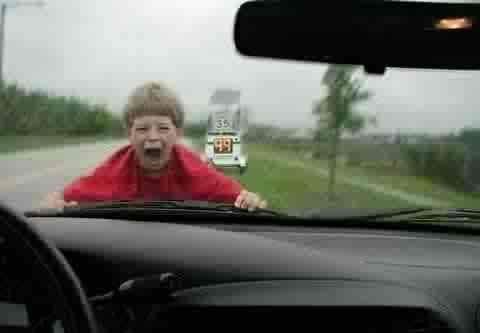 Tipped off of a comments conversation that I had with Alan on my own blog, I had to bring this past my Tribe for comment.
My stubborn Humanling pulled a stunt that can be read about
here
. She's going to be ten in January. I understand that our curiosity never wanes, unless we are status quo (which I highly doubt any of this group is - right or left brained) but judgement is of course, invited to the party.
After I noted that Humanling was ok from her escapade with Time Travel to when she was two and was legit for an act like this, I was just angry with her. But we went on with our merry lives and there was no punishment since I was happy to have not had to carry her struggling to breathe body down a winding fire escape where surely I would have banged her head and my elbows numerous times, further pissing me off.
How were we all punished as kids? Boopila, Mama Monster & Whatupwit - are you comfortable with sharing punishment tactics here? Views of course, you don't have to admit to the child slave labor that they obviously deserve sometimes. =)
Humanling has a worn out tread in the carpet from the Go To Your Room episodes. It wouldn't be as bad but she's like a horizontal buoy, treading straight back out after a moment, "Can I come out now?" Things have been taken away and she's been put into an airspace with no other beings.
One morning, her mouth was brimming with piss & vinegar and we were in a hurry to get out the door. It was winter, because I remember that I was wearing cotton gloves. She spat some bullshit out at me within a one foot facial range and I couldn't find my happy space. So I gave her a light (and I seriously mean light - and WITH a cotton glove on) back tap to the mouth. It was like a nerf slap.
Wouldn't you know she went to school, told the first adult she saw and I got a phone call at 2:30 that afternoon at my desk at work. I had to sit in a corporate room of people who would love to have been on a feeding frenzy of gossip had they heard any of the conversation. The nurse from her school called me. When I answered, she said "We had a hard morning this morning didn't we?"
If I've any connection to a violent and explosive nature, this would surely be the way to set me off.
I've now got the nurse from the school who knows nearly nothing of my life or HL's life, on a leg up about to serve me. And I can't do a thing. I'm at work. And she's got the ability to transform my words into something unlawful and threaten my situation.
She mentioned to me that it was 'fortunate' that there were no bruises and that HL, when asked, said that this never happens.
This woman has no idea that everything that I do is for the child. And seriously, 97% of my life belongs to this beautiful and sometimes tinged with evil, little girl. She sleeps with me at night (I keep her close due to possibility of seizure activity - which I work on eliminating with a strict diet), almost everything she eats is whole food, chopped, cooked and served by me. Her dad has approximately eight hours of time total with her during one of the earth's rotations of the sun. I'm not complaining. This is my life and I love every bit of it.
I was humiliated. I cried all the way home that day. I called my mother. Yes, the big guns. I actually had to call my mother and talk.
Alan, this is the big Why of how Humanling lived without incident after her stint as Doubting Thomas on the quality control of the Krazy Kitty bead people. She will never get a spank ever. Because then I will be the single mom who had her kid taken away for abuse.
I live in a small town where you can't tie your shoe without someone you know sticking out of the laces.
I got the spank. The belt. The peanut butter glass jar thrown at my head that dented the wall because I ducked. The sturdy plastic rolling pin with roaches inside (read: weed bits, not indestructable insects). I'm not complaining at all. My parents split up when I was nine. They did what they thought was right. Or my mom did. My dad was scary on his own optometric powers. And only once did he ever give me corporal punishment, which was so bad that I completely passed out and my mother never again shared with him any Top Level bad deed that I'd performed.
I didn't run to any adult to share. I was keeper of secrets. I intuitively knew that this would not be playground information.
My story isn't dramatic...I'm sure its way more Candyland than many many folks out there.
So what are your views? How were you handled as a child?